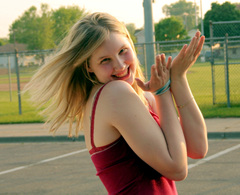 Mere words will never suffice to express the loss that my family and I have experienced since Deanna was killed on October 28, 2006, by an impaired driver. Deanna was a sixteen year old girl, enthusiastic for life with a vivid future in mind.
I think back to Friday, October 27, 2006, I had spoken to Deanna with the confident, normal expectation that I would see her again. Now I have to live with plans that can never unfold, words that cannot be taken back, and a huge section of my future erased. I had no time to prepare myself, no time to say good-bye. Deanna's unexpected death came as a brutal shock and a sense of total helplessness. Learning the news of Deanna's death will forever be etched in my body. The searing pain flooded me as the shock response faded and the terrible reality came home. With the reality of her death I have the painful knowledge that I did not get to say good-bye to Deanna. No chance to sum up love or remember old pleasures. No chance to apologize for my mistakes and insensitivities. No chance to hold her, and tell her all that she had been to me.
As she laid there dead on the roadway, there was no sense of rejoice.
After learning of Deanna's death many phone calls were placed and received. One was from the Medical Examiners Office. The topic of discussion was body donations. I questioned the discussion because Deanna died at the scene of the crash, so what could she donate? It was at this time I learned of tissue donations and had my first contact with American Donor Services. I agreed to donate Deanna's tissues because it was Deanna's wish and I felt it was the right thing to do.
As the days and weeks of grieving continue, I have been able to encompass the special gift of tissue donation that Deanna gave. Knowing Deanna has helped people gives me a sense of pride. Deanna loved to reach out to friends that were in need when she was alive and I have the pleasure of knowing she continues to do so in her death.
As a parent who lost her daughter in a senseless act, I feel blessed that Deanna will be helping both children and adults by giving them a second chance at life. Deanna's life was stolen from her; nevertheless, in death she gives life. It brings such elation to know even in tragedy; Deanna brought hope to people and a part of her lives on with them.
I was honored when Deanna received a Certificate of Commendation from the Governor in recognition of humanitarianism demonstrated through her selfless act of her tissue donation. This was all made possible by American Donor Services.
My family and I are forever grateful that we could and did donate Deanna's tissues. I rejoice that something positive came after Deanna's death.
---
Deanna's Story – An Update
---
Minneapolis Police Officer Honors Daughter's Life during the Rose Bowl Parade
A Minneapolis Police Department officer honored the life of her daughter and thousands of others who gave the gift of life through organ and tissue donation. She was one of 28 people who rode a special float in the 2011 Tournament of Roses Parade in Pasadena, Calif. on January 1.
Officer Catherine Casey, mother of tissue donor Deanna Casey, rode the Donate Life float in recognition of tissue donors worldwide. Catherine's trip to Pasadena was sponsored by RTI Donor Services, one of more than 60 associations across the nation—including organ and tissue recovery organizations, industry partners, transplant centers and transplant recipient groups—supporting the float project.
Catherine lost her daughter Deanna at the age of 16 in a car accident as a result of an impaired driver. According to Catherine, at the time Deanna received her driver's license a fateful mother-daughter conversation took place where they talked about donation. They both agreed that donation was the right thing to do. When Catherine received the heart wrenching call feared by every parent, she immediately thought of donation. As an MPD officer, Catherine had a familiar understanding of the tragic situation, having witnessed such events first-hand. Upon learning that tissue donation was still an opportunity, the Casey family said yes.
At the hearing of the impaired driver involved with Deanna's accident, it was presented to the court that the defendant was a veteran and hero. When it was their turn, Catherine holding a Certificate of Recognition presented by the Governor, stated to the court that her daughter was a tissue donor and that she, too, was a hero.
Organ and tissue donation is an incredible gift that saves and heals. "Deanna's spirit continues to touch many lives, just as her smile did, and that lives on forever in our hearts," Catherine said. She believes that "donations make good things happen out of unimaginable tragedies." Deanna's family is forever grateful that they could and did donate Deanna's tissues. Catherine is committed to working to educate the young and old about organ and tissue donation.
She feels honored to ride in this year's parade and takes heart in the fact that Deanna, "one little girl," has touched the lives of so many.
The Donate Life float recognizes the thousands of people who give the gift of life through organ and tissue donation each year. The float, one of 90 parade floats and units in the 2010 "Building Dreams, Friendships and Memories" themed parade, presented "Seize the Day" as its colorful kites represented donor families, living donors and transplant recipients making new memories through a precious moment.